Do you have a nose ring and are looking for some new nose ring ideas? Or are you thinking of getting your first one and want to know what's out there? No matter what, you're in the right place. Nose rings can be a great way to express yourself, and there are tons of different options to choose from. Keep reading for some inspiration on how to style your nose ring!
Nose ring styles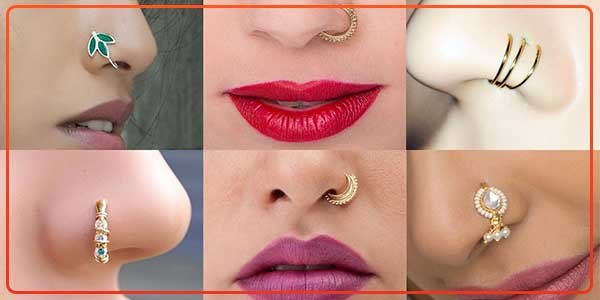 Nose rings come in all sorts of different styles. here are top 5 styles for you to check out:
Hoop Nose Ring
Hoop nose rings are usually made of metal and can be worn in a variety of ways. Some people wear them as a fashion statement, while others believe that they have spiritual or cultural significance. Whether you're looking to make a fashion statement or pay homage to your heritage, a hoop nose ring is a great choice.
Stud Nose Ring
stud nose rings are worn for a variety of reasons. For some, it is simply a fashion statement, while others see it as a way to express their cultural heritage. Whatever the reason, there is no doubt that nose rings have become a popular accessory around the world.
Clicker Nose Ring
Clicker style nose rings are becoming increasingly popular, and it's easy to see why. Not only are they stylish and unique, but they're also very easy to put in and take out. Clickers are also very versatile; they come in a variety of sizes and styles, so you can always find one that suits your personal taste. Whether you're looking for a simple silver hoop or a more ornate design, there's sure to be a clicker nose ring that's perfect for you.
L-Shaped Nose Ring
This type of nose ring is slightly longer than a standard nose ring, and it has a slight curve that gives it a unique look. L-shaped nose rings are available in a variety of metals, including sterling silver, gold, and even titanium. You can also find them in a variety of colors, so you're sure to find one that matches your personal style. If you're concerned about the pain of getting your nose pierced, don't be! The pain is actually quite minimal, and it's over before you know it. So go ahead and give an L-shaped nose ring a try – you might just surprise yourself with how much you love it!
Screw Nose Ring
screw nose rings are easier to put in and take out than traditional nose rings. To insert a screw nose ring, simply unscrew the ball at the end of the barbell, insert it through the nostril, and then screw it back on. To remove it, simply unscrew the ball and pull it out. Screw nose rings are available in a variety of materials, including gold, silver, and titanium. They can also be decorated with gems or beads. Whether you're looking for a new type of nose jewelry or you're just curious about this unique style, a screw nose ring may be right for you.
Nose ring placement
Today, nose rings are primarily worn as a fashion statement, but there is still a wide range of placement options to choose from. The most popular placement for a nose ring is on the side of the nostril, but it can also be worn on the septum (the fleshy divider between the nostrils) or on the bridge of the nose. 
Some people also choose to wear multiple nose rings, often in different sizes and positions. However, it is important to keep in mind that not all noses are evenly proportioned, so some placement options may look better than others on certain people. Ultimately, it is up to the individual to decide which placement looks best on them.
Inner nostril
Placing a nose ring in the inner nostril is a popular piercing option that can give you a unique and stylish look. This type of nose piercing is relatively easy to do, and it has a low risk of complications. The inner nostril is the fleshy area between the septum and the outer edge of the nostril. 
To pierce this area, your piercer will use a small gauge needle to create a hole. You can then insert your chosen nose ring. Nose rings for the inner nostril are typically small and delicate, so they may be made from materials like gold or silver. If you take care of your piercing and clean it regularly, it should heal quickly and without any problems.
Outer nostril
Many people choose to pierce their nostrils in order to wear beautiful nose rings. The most popular placement for a nose ring is in the outer nostril, as this is the easiest type of piercing to heal. This type of piercing is typically done with a thin needle, and it only takes a few seconds to complete. 
However, it is important to note that outer nostril piercings can be tricky to keep clean, so it is important to follow your piercer's aftercare instructions carefully. In addition, it is advisable to avoid wearing heavy nose rings or participating in strenuous activity for the first few weeks after the piercing is done. With proper care, an outer nostril piercing can be a beautiful.
Nose ring materials
There are many different materials that can be used for nose rings, and the best choice for you will depend on your individual needs and preferences. If you have allergies or sensitivities, you may want to choose a material that is less likely to cause irritation, such as titanium or surgical steel. 
If you're looking for a nose ring that is both comfortable and stylish, you may want to consider a gold or silver ring. And if you're looking for something a bit more unique, there are also options made from glass, wood, or even plastic. No matter what your needs are, there is sure to be a nose ring material that's perfect for you.
Gold: Gold is a popular option for nose rings, as it's hypoallergenic and won't cause irritation. Plus, it's a soft metal that won't damage the delicate skin around your nostrils. However, keep in mind that gold can discolor over time, so you'll need to clean it regularly to keep it looking its best
Surgical steel, which is also hypoallergenic and very strong. Steel nose rings are less likely to bend or break than other metals, making them a good choice if you're active or play sports.
Titanium: Titanium is another popular material for nose rings. It's lightweight and won't cause allergies or skin irritation, making it a good choice for people with sensitive skin. Whichever material you choose, be sure to consult with your piercer to find the best option for you.
Conclusion
And there you have it! A few nose ring ideas that will help you get started on your search for the perfect styles of nose ring. Remember to consider placement and material when making your choice, as both of these factors can affect how your ring looks and feels. We hope you've found this post helpful, and please feel free to share it with friends who might also be interested in adding a little bling to their noses. Thanks for reading!